BP-210 and BP-211 Large Format Microwaves
The BP-210 large format process microwave and its higher powered twin the BP-211 have the largest cavity and the highest power levels in the industry for an off the shelf microwave. They are right at home in the laboratory, or the production line heating samples or products for a variety of applications.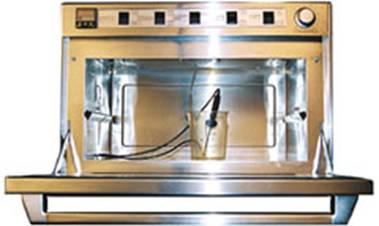 The BP-210 Microwave features 2,100 watts of heating power and the BP-211 features 3,200 watts of microwave power.
The microwaves are built for heavy-duty use with stainless steel construction of the cavity and housing with powered cavity exhaust. This microwave features a convenient pull down door and high volume cooling keeps the electronics cool for long life. It comes as a basic microwave or it can be configured with a wide variety of useful features.
Microwave energy enters the process cavity by way of 4 "Mode stirrer" systems, 2 from above and 2 from below the cavity giving superior heating uniformity. All the mode stirrer systems are located out of the way with little chance of becoming damaged or to interfere with the samples.
Temperature distribution within cavity
(Percentage of maximum value)
Back of microwave
92.8 96.1 95.9 94.6 95.1 96.4 93.8 94.3
96.1 100 98.5 98.5 99.7 97.9 98.5 98.2
95.6 96.4 96.1 99.2 96.9 97.4 95.1 93.6
94.6 95.6 95.6 95.6 97.9 97.4 96.4 92.3
Front of Microwave
The basic BP-210 or BP-211 has a touchpad that allows the operator to program duty cycling power control and process time. You can program up to 3 different program stage and store 8 different programs. Each stage is a maximum of 15 minutes on the 2 highest power levels and 30 minutes each on the lower power levels. The basic microwave uses ON and OFF pulsing of the microwave power to adjust the power level.
Even though they can be ordered as a basic microwave, because of their size and power levels, the BP-210 and BP-211 can be configured with a wide variety of features. The features below are some of the most popular configurable features, while this list is not the complete list, you should discuss your specific needs for a feature if it is not shown here as we have added many other features to BP-210 and BP-211 large format microwaves.
Some of the more popular optional features include:
Sideway configuration even though the cavity is the largest available, we know there are some that need a taller cavity so it is available in a sideway configuration, giving a cavity height of 21 inches for taller vessels.
Process control features include a programmable process controller to maintain the sample at the programmed temperature and time of the process. The standard process controller allows program of sample ramp time and then process temperature and time. An upgraded process controller is available that allows programming from a laboratory PC (not included). Up to 31 programs with as many as 126 steps can be programmed. The PC can also collect and analyze process data.
Power control options include an economical ON and OFF cycling or our exclusive True-To-Power™ power control system which allows true power adjustment reducing product damage caused by overheating. The true variable power feature really changes the average and instantaneous power.
Sample stirring options include magnetic stirring bars and variable speed mechanical stirrers.
Other features can be installed based on customers needs.
Specifications
Nominal values
Output power
2,100 watts BP-210, 3,200 watts BP-211
Required power

208/230 volt, 1f, 60 Hz.
Dedicated 20-amp line
20-amp BP-210, 30-amp BP-211
NEMA 6-3DR male plug supplied (60 Hz version)

Process control
Dependant on features
Power control
Dependant on features
Dimensions
Outer 25.56" w x 20.75" d x 18.56" h nominal (W/O handle)
Cavity 21.06" w x 13"d x 9.25"h nominal
Cavity exhaust

Powered cavity exhaust

Weight
135 pounds BP-210, 148 pounds BP-211 (base models)
Operating frequency
2.45 GHz (an internationally regulated ISM frequency)
Cavity and housing material
Corrosion resistant stainless steel
Electronics cooling
High volume for long life
Options
High temperature package (up to 1,800 °C)
Process control

Programmable time and power
Manual adjustment of power
Automated programmable process controller
Automated programmable process controller with PC USB or RS-232 interface. 31 programs with 126 steps. Includes software.

Various temperature probes including infrared (IR) sensors
True-To-Power™ variable power control
Corrosion resistance
Sample mixer
230 volt 50 Hz version
Vacuum chamber
Sample stirrer