BP-110-T Laboratory Grade Microwave
Microwave Research & Applications Inc. is pleased to offer you our BP-110-T which is tilted 90 degrees to increase the useable height of the microwave. The microwave is tilted to accommodate taller vessels, common for heating Agar. The microwave is basically the same 1,000-watt microwave as the BP-110 but tilted with 2 large feet for stability and the ability to be bolted to a lab bench for stability.
The process control of this microwave is by the user setting the power level and process time, and the control panels allows the user to select 5 different power levels and process time up to 99 minutes.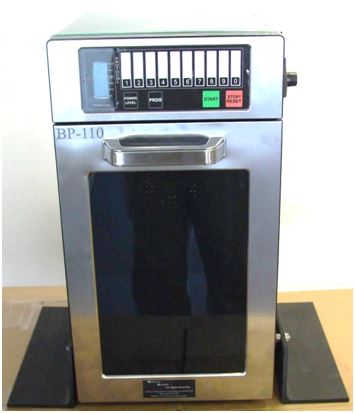 Price: $3,701
Specifications
BP-110-T
Output power:
1,000-watts variable power levels (wattage) at 2.450 GHz.
Input power:
120 volts, 15-amps minimum, 60 Hertz. Single phase dedicated circuit plugging into a standard NEMA 5-15R or NEMA 5-20R
Process control:
User program time (up to 99 minutes) and up to 5 power levels.
Heating uniformity
Mode stirrer technology mixes the microwave fields for uniform heating without protruding into the cavity
Cavity:
13" (330 mm) x 8 1/16" (204.75 mm) x 13" (330 mm) tall, Stainless-Steel cavity
Door:
Pull down toward you to open
Housing:
Stainless-Steel housing
Shipping box (approx.)
26" (660 mm) x 21" (533 mm) x 17" (432 mm) tall
Cavity exhaust:
Powered exhaust will exchange cavity air every 4-8 seconds from the rear of the microwave.
Includes 8 feet of 4vinch diameter chemically resistant hose, adaptor and 2 stainless steel hose clamps
Adjustable power:
Up to 5 power levels cycling the power on and off
Timer modes:
Multiple (minutes and seconds)
Interlocks:
Door and component over temperature interlocks turn off the microwave power
Warnings:
Visual and audible
Safety:
Multiple door interlocks turn off the microwave when the door is opened
Fully tested for electrical safety and microwave leakage
Standard warranty is 12 months parts and workmanship.