BP-111 Laboratory Microwave
The BP-111 automated microwave from Microwave Research and Applications, Inc features automated microwave processing. It can be used for tissue processing for some light volume pathology and for tissue preparation for researchers or microscopists. It produces excellent and repeatable preservations for both plant and animal tissues.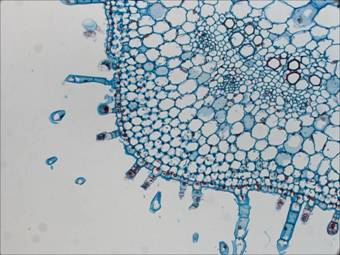 Coleus
The BP-111 can also be used for automated sample or product processing and has been used for a wide variety of applications including biological sample processing, chemical processing and even some high temperature ceramic processing for researchers. With the addition of a muffle, the microwave can be used for ashing samples for chemical analysis or for ceramic processing.
The BP-111 uses our exclusive True-To-Power™ power control system that controls the microwave power level with an infinite number of power levels. This power adjustment system does not adjust the power level by pulsing the microwave power, but actually changes the instantaneous microwave power level much like a light dimmer switch changes light levels. This level of power control allows almost an infinite control of the microwave power for precise processing for even the most sensitive or small samples.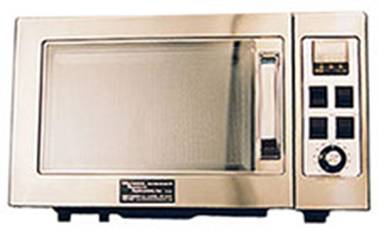 BP-111
Compact Microwave Processor
Process control
The programmable process controller measures the sample temperature and compares it to the thermal profile the user has programmed into the process controller. If the sample temperature is too low, the process controller increases the microwave power using the True-To-Power™ power control system, thus increasing the sample temperature to match the programmed protocol. If the sample temperature is too high, the controller reduces the microwave power, reducing the sample temperature. The controller continues these evaluation steps to keep the sample temperature following the programmed protocol. The BP-111 laboratory microwave produces up to1000 watts of power for quick heating of larger samples.
Operation
In the automatic mode, the standard process controller is programmed with a temperature ramp and the desired "soak" temperature and time. Place your sample into the microwave cavity and insert the thermocouple in the sample. Start the process and when complete, the microwave power will turn off and there is a visual indication that the cycle is complete.
In the manual mode, you change the power level using a power control knob before or during the heating. The process controller will display sample temperature. You will need to time the process. The manual mode of operation is excellent for process development.
Specifications
Nominal values
Output power
1000 microwave watts
Required power
120 volt, 60 Hz.
Dedicated 20-amp line
Input power
1,000 watts maximum infinitely variable adjusted manually or by process controller to maintain sample temperature.
Temperature probe
Standard type K shielded 1/8" x 3" long stainless steel probe. Connection by connector requires no tools for replacement
Process control
Automated or manual
Dimensions
Outer 20.125" w x 15" d x 12" h nominal (W/O handle)
Cavity 13" w x 13" d x 8.06" h nominal
Weight/Shipping weight
50/60 pounds
Operating frequency
2.45 GHz (an internationally regulated ISM frequency)
Cavity inlet air
Ducted directly from ambient (and relatively constant temperature) room air. This gives a consistent process environment. Many laboratory microwave ovens draw cavity air from the electronics housing; which can often be quite hot and inconsistent in temperature. High air temperature can adversely affect processing consistency.
Cavity exhaust

powered, 15 cfm
Includes 8 feet of chemical resistant flexible duct to connect to exhaust system. Includes 2 stainless steel clamps for ease of mounting

Cavity and housing material
Corrosion resistant stainless steel
Electronics cooling
High volume for long life
Options:
230 volt 50 Hertz operation
Variety of temperature probe configurations available
Infrared temperature sensor available
Microwave safe gas feed through ports
Corrosion resistance package
Ashing package with muffle to 1,000 °C
High temperature package for processing up to 1,800 °C
Vacuum chamber
Air driven magnetic stirrer system
Upgraded process controller with RS-232 or USB PC interface with 126 process steps into 31 programs. Sample time and temperature data collection with graphing.
Fully safety tested for microwave leakage, electrical safety and operation.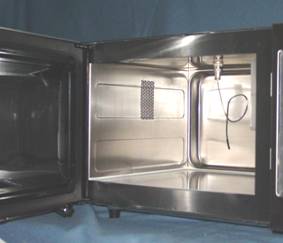 Large Process Cavity
The thermo probe is easy to replace in the field