BP-120 High Temperature LOI/Ashing Microwave
A high temperature ashing microwave
from Microwave Research and Applications for
Inductively coupled plasma atomic emission spectroscopy (ICP-AES)
sample preparation, Loss on ignition (LOI) testing and ashing of samples.
BP-120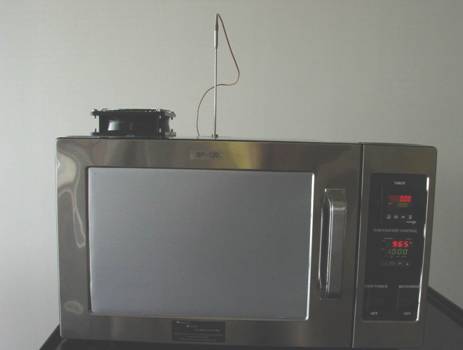 The BP-120 is a high temperature LOI/Ashing microwave with simple user selectable "time at temperature" control settings. The timer and temperature controller are programmed by the user. The timer begins timing once the temperature controller reaches its programmed temperature. The temperature controller maintains the muffle air temperature to the programmed value. The timer and temperature controller are very straightforward and simple to program. To further ease programming, there is a printed quick start instructions mounted to the cover. The microwave produces 1,000 watts of microwave energy for fast heating and ashing.
Included is a muffle inside the microwave that protects the microwave from the heat generated. The muffle has removable inserts with microwave susceptor that convert the microwave energy to thermal heat. The inner muffle is 6" x 6" x 3 &frac12" tall. The temperature inside the inner muffle can increase from 20 °C to 1,000 °C in under 35 minutes when empty. Sample heating times depend on the sample loads inside the muffle.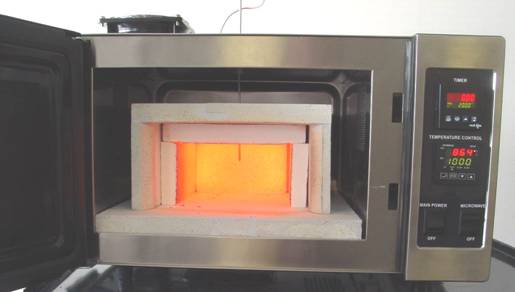 BP-120 features
120 volt operation, 15 ampere - needs no special wiring (230 VAC 50 Hertz input available)
Economical LOI/Ashing microwave
Up to 1,000 watts of microwave power
Simplified timer and temperature control - timer begins timing process once desired temperature is reached.
Timer and temperature controller retains last protocol even with power removed
Timer can be programmed in minutes or hours
Temperature controller can be programmed in degrees Celsius or Fahrenheit scale
Quick program operation instructions on the microwave cover just above the control panel for easy use.
High volume cooling for long life
All cooling fan operate when main power is on for better cooling
Reaches 1,000 °C in less than 35 minutes from 20 °C starting temperature when empty
Susceptor coated inner muffle (left side, right side, rear and top) are replaceable should they need to be replaced.
Muffle rated for 1,100 °C continuous use
Inner muffle (6" x 6" x 3 &frac12" tall)
Large muffle door for easy loading and unloading
Replaceable microwave safe type K temperature probe rated for 1,000 °C continuous use
Compact microwave - uses minimal counter space
Stainless steel cavity and cover for easy clean up, chemical resistance and long life
Fully safety tested including microwave leakage
Meets US FCC requirements and can be tested for Canadian CSA requirements.
Specifications (values nominal)
Electrical
Input power 120 Volts / 60 Hz. 15 amp dedicated circuit
(230 volt / 50 Hz available)
Physical
Outer dimensions 22" w x 13 &frac12" h x 16" d (W/O handle)
Inner muffle dimensions 6" w x 3 &frac12" h x 6" d
Weight/shipping weight 45 pounds / 52 pounds
Microwave
Frequency 2.45 GHz. - an ISM frequency
Microwave leakage Less than 5 mW/cm2 at 5 cm meeting FCC/FDA CDRH requirements